KAZ INSOLITE, unusual accommodation at the window of the Makes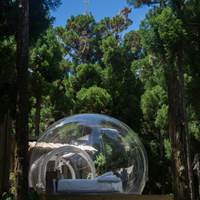 Kaz Insolite is an original accommodation on the island of Reunion. Our unusual cottages are transparent bubbles installed at 1500 meters altitude in the forest of Makes. Each of the bubble suites is based on a platform on stilts.
Kaz Insolite is close to the star- rated village of Makes , famous for its astronomical observatory. It is located in the Hauts de la Réunion, 45 minutes from Saint-Louis . Our unusual vacation rentals are labeled Gîte de France. The on-site restaurant allows you to dine at the Kaz and savor our local Reunion cuisine.
Your Comfort, Our Services
Car park
Internet access
Mountain views
Open 24 hours a day
Organized activities
Pets not allowed
Restaurant
Wifi
CALENDAR OF THE EVENINGS ASTRONOMY INSOLITE 2019-2020
We offer on the site of Kaz Insolite, evenings "u...